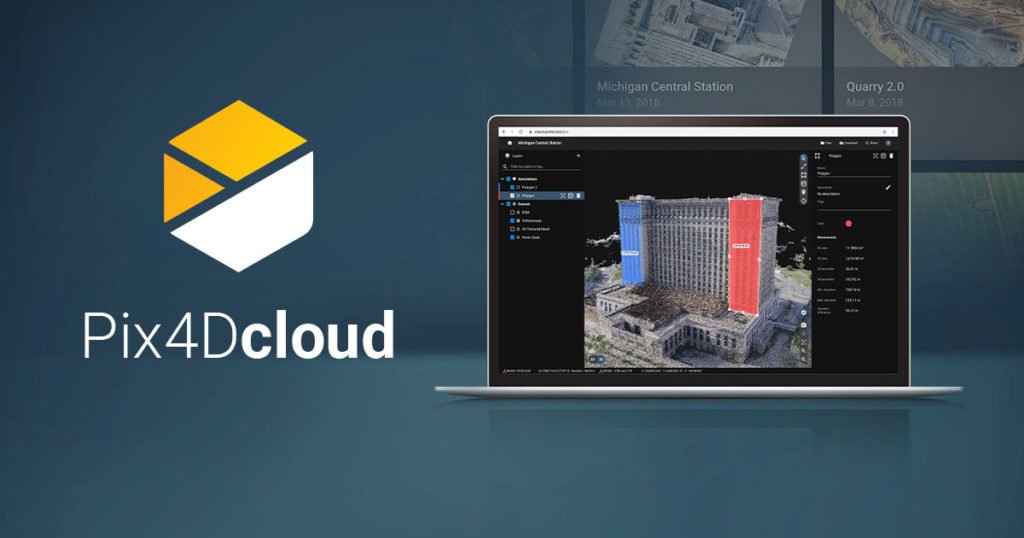 Pix4D launches stand-alone photogrammetry cloud processing solutions
Pix4D, the photogrammetry, and drone-mapping industry leader announce today the release of Pix4Dcloud and Pix4Dcloud Advanced: the new mapping platforms for online surveying workflows and construction site monitoring. These stand-alone cloud products run Pix4D's photogrammetry algorithms for mapping and modeling reality from images.
Pix4Dcloud Advanced extends the functionalities of Pix4Dcloud to address the needs of construction customers with timeline-based monitoring and improved accuracy. Both products now replace the previous Pix4D Cloud platforms.
Christoph Strecha, Founder and CEO of Pix4D, comments: "Pix4D's new and improved cloud solutions actively contribute to completing the existing desktop and mobile product offering. Integrating Pix4D's leading algorithms and know-how in an online platform delivers strong value to professionals in need of a powerful, flexible, and easy-to-use application."
Survey-grade accuracy on the cloud
With Pix4Dcloud Advanced, projects can now be processed with ground control points (GCPs) directly on the cloud. Pix4D has combined machine learning and computer vision in the AutoGCPs feature to pinpoint the exact center of a GCP target almost instantly with pixel-level accuracy, all automatically. Read more on Pix4D's blog.
A refreshed, more powerful interface
All projects and datasets are now in one place: the drive. Projects and sites can be easily searched and there is no need to go from one application to another to open different project types. On the map view, annotations and overlays are automatically grouped, to make work and collaboration easier. All grouped layers can be hidden with a click, and multiple annotation groups
can be created and simply reorganized.
Construction sites monitored with the Crane Camera now accurately georeferenced
When bundled with Pix4D's Crane Camera, Pix4Dcloud Advanced is also the most straightforward ​solution to automatically capture and process construction site imagery without interfering with site operations. Thanks to improvements made in the alignment process, projects of the same construction site captured on different dates are aligned even better than before.
Pix4Dcloud and Pix4Dcloud Advanced can be purchased independently from any desktop software to generate 2D maps and 3D models for online-only surveying workflows. Explore demo projects for free and without an account on cloud.pix4d.com/demo .
About Pix4D
Pix4D (pix4d.com) develops cutting-edge software that converts images taken by hand, by drone, or by plane into accurate and georeferenced survey-grade 2D mosaics, 3D models, and point clouds. Founded in 2011, Pix4D is rapidly expanding from its headquarters in Lausanne, Switzerland, to offices in Berlin, Madrid, Denver, San Francisco, Shanghai, and Tokyo.