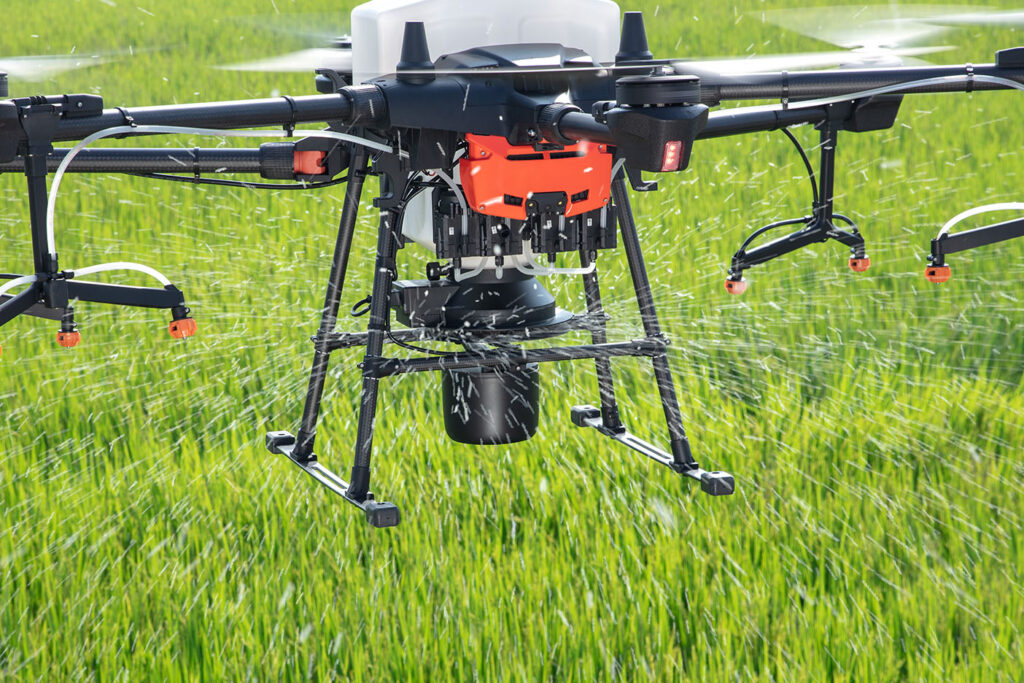 DJI's agriculture drone for crop spraying, the DJI AGRAS T20, makes agricultural spraying easier, smarter, and safer.
Crop spraying by drone, while not widely legal in the U.S., has been adopted elsewhere around the world. As agricultural drones get easier to fly and ever more automated, crop spraying by drone offers agronomists a better, more efficient, and less expensive option. Today, DJI announced the DJI AGRAS T20: a high performance and intelligent precision agriculture spraying drone.
The DJI AGRAS T20 is modular, portable, and ready for any environment: "from its easy autonomous flight planning and terrain-sensing radar to its extended flight time, high payload capacity, and off-the-grid power options," says the DJI release.
Upgraded Spraying System For Improved Accuracy And Efficiency

The DJI AGRAS T20 can carry a maximum payload of 20kg. The layout of the nozzles has been optimized to achieve a 20% improvement in the uniformity of spray droplets and the effective spray width of 7 meters. The DJI AGRAS T20 is equipped with 8 nozzles and high-volume pumps that can spray at a rate of up to 6 L/min. A highly optimized wind field produces droplets ideal in size and consistency. The new 4-channel electromagnetic flowmeter design can monitor and control the four hoses individually, ensuring an efficient flow rate for each nozzle.
Portable, Easy To Operate
The DJI AGRAS T20 folds and unfolds in seconds: the spray tank and battery are both swappable, reducing downtime. "Thanks to a new programmable DJI AGRAS Smart Controller 2.0 and the DJI AGRAS app, the user interface runs smoothly and is incredibly intuitive," says the press release. "In addition, the smart controller comes with an ultra-bright 5.5-inch display, which remains readable even under direct sunlight. It also supports external battery packs and can last twice as long as other remote controllers, perfect for lengthy or heavy workloads."
Drone Solutions for Agriculture
Last year, DJI announced the P4 Multispectral, integrated multispectral imaging to allow agronomists to scan fields and gather data about crop health. This type of precision agriculture has been widely accepted as a significant benefit to increasing yields and decreasing water and chemical resource use, critical in countries faced with food insecurity or agricultural challenges. Multispectral imaging combined with crop spraying on drones make a compelling solution.
DJI's agriculture drone solutions stand out because they offer some of the benefits of their mass market solutions: they are easy to use effectively. "Navigating through challenging terrains is now an issue of the past, thanks to the 3D Flight Route Planning solution. By using the Phantom 4 RTK, operators can scan and map target areas, making it easier to identify all aspects of the field. In Orchard mode 3.0, 3D flight routes can be generated based on the shapes of each tree after they are identified. Afterwards, users can conduct efficient spraying with their DJI AGRAS T20," says the press release.
Price and Availability

The DJI AGRAS T20 is available for pre-orders starting today in select countries and regions. For more details about the product, pricing and availability, visit https://www.dji.com/t20 or contact an authorized DJI reseller. Operators should check local regulations to determine what certifications and approvals are required for the operation of this product in their country or region.